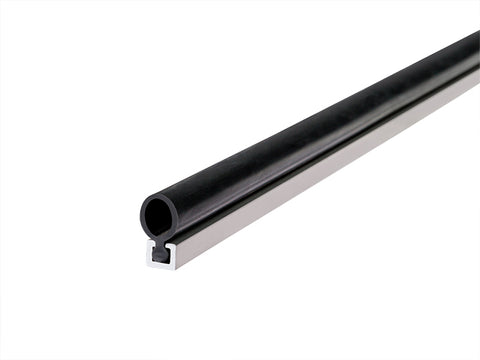 Deluge (SEM)
SE carrier size = 5mm x 5.5mm
Sealmaster's Deluge weather system is a rebated seal suitable for around windows and the head and jambs of doors.
Sealmaster Deluge seals are designed to be rebated into the joinery making them unobtrusive. They are particularly suitable for situations where doors and window frames are to be replaced. These stop seals, in conjunction with an appropriate door threshold seal and meeting stile seals on double doors are suitable for:
Situation where smoke/ gas/ air leakage reduction is important. Leakage rates for this seal can be as low as 0.47m3 / hour at 25pa pressure have been achieved when tested.
Dark rooms used for general photographic work on single swing doors.
Deluge stop seals consist of an aluminium carrier and a wide range of straight blade, angle blade and compression bulb inserts to suit the applications illustrated above and many others.
For heavy compression doorsets, the tubular bulb insert is most suitable. For standard applications, straight or angled blades with a crossbar next to the carrier are usually most suited. For ease of access and low friction operation, the straight and angled blades without crossbars are usually recommended.
---
* Due to the technical nature of our products they are designed to be installed by a professional.
* Actual product may vary from images.
** All information given is for guidance purposes only. Information is offered in good faith but cannot be used in place of current test evidence.
*** Diagrams not to scale.
**** Information is to the best of our knowledge and we reserve the right to change specification without notification.
---
We Also Recommend