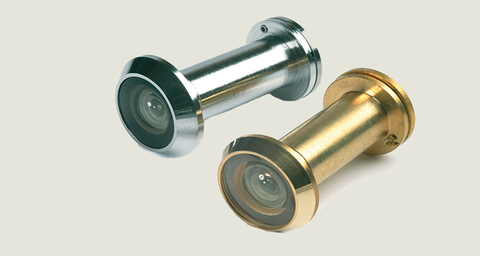 Door Viewer
The Fire Rated version of the humble door viewer. Compliant with British Standard BS 476 Part 22 fire regulations, this door viewer comes supplied with an intumescent wrap to make it fire resistant up to 60 minutes in previously tested and assessed fire doors. Our door viewers are suitable for fitting within 44mm and 54mm door sets.
Ceramic Glass is incorporated due to its ability to withstand heat variations without shattering together with an all steel construction and an ultra thin intumescent liner to seal between the unit and the door core.
Available in Chrome and Brass the ranges offer a most elegant solution to this often overlooked product.
Technical
Manufacturer: Norseal
Fixing: Rout-in
Size: 16mm(depth) x 40mm(height) (Our door viewers are suitable for use in doors between 44mm and 54mm)
Material: Ceramic glass with intumescent liner
Colour: Chrome, Brass
---
* Due to the technical nature of our products they are designed to be installed by a professional.
* Actual product may vary from images.
** All information given is for guidance purposes only. Information is offered in good faith but cannot be used in place of current test evidence.
*** Diagrams not to scale.
**** Information is to the best of our knowledge and we reserve the right to change specification without notification.