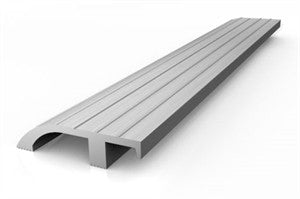 NOR695 Carpet Threshold Plate
The NOR695 is part of the Norsound 600 range of threshold plates. It has been designed to suit differing floor heights or where a hard surface meets carpet! This product is 40mm wide and made from durable T6060 grade aluminium and anodised to the highest standard. 
These threshold plates are made from durable aluminium and compliment the Norsound door bottom seals. They provide a level platform for the Norsound door bottom seals to locate against which ultimately leads to greater sound reduction.
---
* Due to the technical nature of our products they are designed to be installed by a professional.
* Actual product may vary from images.
** All information given is for guidance purposes only. Information is offered in good faith but cannot be used in place of current test evidence.
*** Diagrams not to scale.
**** Information is to the best of our knowledge and we reserve the right to change specification without notification.
---
We Also Recommend