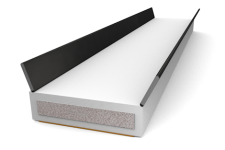 Lorient LP Dual Seal Intumescent Strip
Lorient intumescent strips come fire and smoke tested in accordance with both BS 476 Part 20:22 & Part 31:1.
The intumescent contains a core material of hydrated sodium silicate (also known as type 617). Rubber fins make this seal a popular application in hospitals, food preparation areas and computer rooms.
---
* Due to the technical nature of our products they are designed to be installed by a professional.
* Actual product may vary from images.
** All information given is for guidance purposes only. Information is offered in good faith but cannot be used in place of current test evidence.
*** Diagrams not to scale.
**** Information is to the best of our knowledge and we reserve the right to change specification without notification.
---
We Also Recommend